OUR FIRST CAT OF THE YEAR FOR 2015 Congratulations to
HEMLOCK SPOTTY MULDOON (OSH n 24) and to Sam Brown
2016 cat of the year has started also we would like to take this opportunity to thank
Joan Pounds.
The Judges.
Stewards.
Table workers.
Stall holders.
The members that helped.
The exhibitors.
The visitors.
Not forgetting the OLHBC & BPSCC for going back to back with us for a very successful day well organised, friendly relaxed atmosphere.
The donations received and all those who contributed to the Tombola and our Raffle
The feedback on the day. By phone. By email and on Facebook.
Hopefully see you all next year
---
Best Overall Cat and Midshires cat of the year for 2015
IGRCH HEMLOCK SPOTTY MULDOON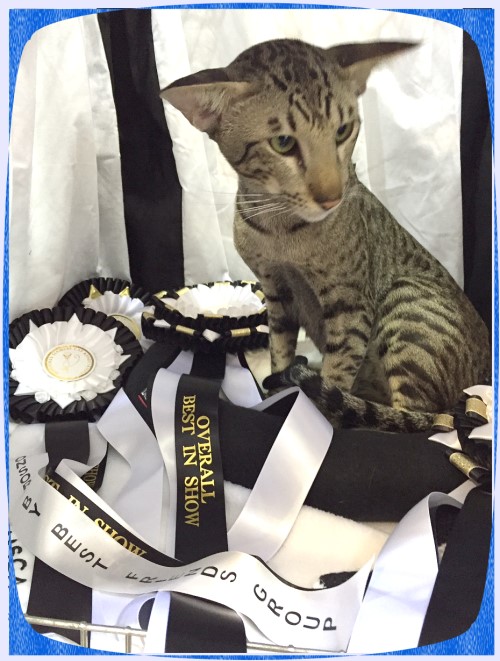 Best Siamese / Balinese Adult
Ch Pippaastro Tiziano (BAL a 21)
Best Siamese / Balinese Kitten
Jomese Jeremiah-Quin (SIA n 21)
Best Siamese / Balinese Neuter
IGRPR Spicesiam Coolhand Luke (SIA d)
IGrCh Hemlock Spotty Muldoon (OSH n24)
Hemlock Demolition Derby (OSH n24)
Loricha Rebel Rouser (OSH ns 25)
Best Pedigree Pet
Bob
Best Household pet non Pedigree
Blackberry Mist
Olympian classes – Judge: Dr B Bennett
Imperial Gr Ch Class
1Oly IGrCh Hemlock Spotty Muldoon (OSH n24)
Imperial Gr Ch Class
Oly Res IGrCh Mafdet Quicksilver (SIA n 21)
Imperial Gr Ch Class Adult Female
Oly w/h IGRCH Michant Furrever love (OSH j)
Olympian Neuter classes – Judge: Mrs L Studer
Imperial Gr Pr Class
1 Oly IGRPR Spicesiam Coolhand Luke (SIA d)
Imperial Gr Pr Class
Oly Res IGRCH Abicasa The Artful Dodger (SIA c)
SIAMESE & BALINESE SECTION – ADULTS
Imperial Gr Ch classes
AC Siamese / Balinese Grand Ch Class –Mrs L Studer
Imp-w/h – GRCH Rocheros Aramis of Snowseal (SIA a 21)
Grand Champion
AC Siamese or Balinese Champion Male – Judge: Mrs L Studer
Grand – Ch Jomese Pazzazz at-Serapis (SIA d)
AC Siamese or Balinese Champion Female – Judge: Mrs L Studer
Grand – Ch Pipastro Sweet-Dreams (BAL a 21)

Res – Ch Jakurtzzi Spellcaster (SIA k)
Breed Classes
Seal Point Siamese Adult Male – Judge: Mrs B Pearce
1st – CC w/h – Caspa Carefree
Seal Point Siamese Adult Female – Judge: Mrs B Pearce
1CC & BOB – Flowerdew Agnetha
Blue Point Siamese Adult Male – Judge: Mr R Davies
1CC & BOB – CASPA CATBALOO
Tabby Point (inc Cinnamon & Fawn) Siamese Adult Male –
Judge: Mrs L Studer
BOB – IGrCh Mafdet Quicksilver (SIA n 21)
Red Point Siamese Adult Male – Judge: Dr B Bennett
BOB – Ch Jomese Pazzazz At-Serapis
Tortie Point (inc Cinnamon & Fawn) Siamese Adult Female –
Judge: Mrs B Pearce
1CC & BOB – Bewychen Lili Lafaielle (SIA f)
AC Balinese Adult Female – Judge: Mrs L Studer
BOB – Ch Pippastro Sweet-Dreams (BAL a 21)
SIAMESE & BALINESE SECTION – KITTENS
Breed Classes
Seal Point Kitten Female – Judge: Mr R Davies
1st – BOB Adiftam Bryher Rennes (SIA n)
Chocolate Point Kitten Female – Judge: Mr R Davies
1st & BOB – Amanjay Pure Devotion (SIA b)
Tabby Point Kitten Male – Judge: Mrs L Studer
1st & BOB – Jomese Jeremiah-Quin (SIA n 21)
SIAMESE & BALINESE SECTION – NEUTERS
Imperial Class Premier Male – Judge: Mrs L Studer
Imp – GrPr Johpas Petits Bisous (SIA d)
Res – GrPr Burnthwaites Razzle-Dazzle (SIA d)
Grand Class Premier Male – Judge: Mrs B Pearce
Grand – Pr Dibberpuss Dreamer (BAL n 21
Grand Class Premier Female – Judge: Mrs B Pearce
Grand – Pr Lemental Hermia (BAL n)
Breed Classes
Chocolate Point Siamese Neuter Male – Judge: Mrs L Studer
PC & BOB – Abicasa Champagne Charlie
Lilac Point Siamese Neuter Male – Judge: Mrs B Pearce
BOB only – IGrPR Abicasa The Artful Dodger
Fawn Point Siamese Neuter Male – Judge: Mr R Davies
BOB only – GrPr Beckstar Sacramento
Tabby Point Siamese Neuter Male – Judge: Mrs L Studer
PC – Pashtan Snagglepuss (SIA b21)
Tabby Point (inc Cinnamon & Fawn) Siamese Neuter Female –
Judge: Mrs L Studer
PC & BOB – GrCh Rantipole Enigma (SIAj21)
Red Point Siamese Neuter Male – Judge: Mr R Davies
BOB only IGrPr Spicesiam Coolhand Luke
Tortie Point (inc Cinnamon & Fawn) Siamese Neuter Female –
Judge: Dr B Bennett
PC & BOB –UK OS IGrCh Littlefeat Powderfinger (SIA f)
AC Balinese Neuter Male – Judge: Mrs B Pearce
BOB only – Pr Dibberpuss Dreamer (BAL n21)
Oriental Adults
Oriental Champion (Grand Class) – Judge: Mrs L Studer
GCC CH VELVETENA GIFT-WRAPPED (OSH c) F
Oriental Longhair Adult – Judge: Mrs L Studer
CC-BOB PIPPASTRO DELIGHTFANTASTIC (OLH ems 11) M
Oriental Lilac Adult – Judge: Mrs L Studer
BOB – only CH VELVETENA GIFT-WRAPPED (OSH c) F
Oriental Tortie – Judge: Mrs B Pearce
CC GABLME THE VOICE (OSH f) F
BOB – only IGRCH MICHANT FURREVER LOVE (OSH j) F
Oriental Spotted Tabby Male Adult – Judge: Dr B Bennett
BOB -only IGRCH HEMLOCK SPOTTY MULDOON (OSH n 24) M
Oriental Spotted Tabby Female Adult – Judge: Dr B Bennett
1 (CC w/h) SERAPIS ALLTHATIAM (OSH a 24) F
Oriental Ticked Tabby Adult – Judge: Mrs L Studer
CC-BOB PIPPASTRO SOLITAIRE (OSH fs 25) F
Oriental Longhair Neuter – Judge: Dr B Bennett
PC-BOB HARTRIDGE HOMESPUNSAFA (OLH n 11) MN
Havana Neuter – Judge: Mrs B Pearce
IGRCH PASHTAN RHAPSODY (OSH b) FN
Oriental Black Neuter – Judge: Dr B Bennett
(BOB – only w/h)GRPR WESTGARTH PRINCE OF DARKNESS (OSH n) MN
Oriental Ticked Tabby Neuter Mrs L Studer
PC-BOB LORICHA REBEL ROUSER (OSH ns 25) MN
2. LOLUJA PRINCE OF THIEVES (OSH a 24) M
NEUTERS
Oriental Grand Premier (Imperial Class) – Judge: Dr B Bennett
1 (IGPC w/h) GRPR WESTGARTH PRINCE OF DARKNESS (OSH n) MN
Oriental Longhair Neuter – Judge: Dr B Bennett
PC-BOB HARTRIDGE HOMESPUNSAFA (OLH n 11) MN
Havana Neuter – Judge: Mrs B Pearce
IGRCH PASHTAN RHAPSODY (OSH b) FN
Oriental Black Neuter – Judge: Dr B Bennett
BOB – only w/h GRPR WESTGARTH PRINCE OF DARKNESS (OSH n) MN
Oriental Ticked Tabby Neuter Mrs L Studer
PC+BOB LORICHA REBEL ROUSER (OSH ns 25) MN