THIS YEAR IS A JOINT SHOW WITH BPSCC
(Saturday 2nd August 2014)
ETTINGTON COMMUNITY CENTRE
ROGERS LANE
ETTINGTON
WARWICKSHIRE
CV37 7SX
click here for a map with directions
The venue is about 12 miles from Stratford-upon-Avon.
ANNUAL SHOW 2014 UPDATE AUG 3RD
The MIDSHIRES SIAMESE CAT ASSOCIATION Would like to thank
Joan Pounds
The Table workers
The Judges,
Stewards,
Stall holders
The members that helped The exhibitors
The visitors
Not forgetting the BPSCC for going back to back with us for a very successful day well organised, friendly relaxed atmosphere.
The donations received and all those who contributed to the Tombola
The feedback on the day and on Facebook.
Best Overall Oriental Adult & Best Oriental
IMP GR CH BARBECCO MIRANDA (OSH o)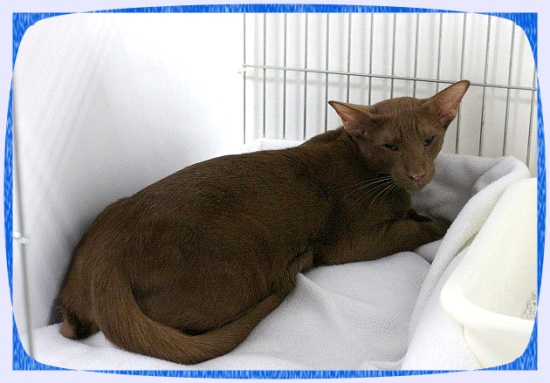 Photo by Graham Ellis
on behalf of (www.oriental-breeder.co.uk)
Best Overall Siamese Neuter & Best Siamese
IMP GR CH JOHPAS SUMMALOVIN (SIA d)
Photo by Graham Ellis
on behalf of (www.siamese-breeder.co.uk)
ORIENTAL BEST IN SHOW
Best Overall Oriental Adult & Best Oriental
IMP GR CH BARBECCO MIRANDA (OSH o)
Best Overall Oriental Kitten
SERAPIS ALLTHATIAM (OSH a 24)
Best Overall Oriental Neuter
GR PR PASTAN RIO GRANDE (OSH em)
Best Overall Siamese Neuter & Best Siamese
IMP GR CH JOHPAS SUMMALOVIN (SIA d)
Best Overall Siamese Adult
MAFDET QUICKSILVER (SIA n 21)
Best Overall Siamese Kitten
TIANLEX IZZITME (SIA f)
PEDIGREE PET BEST IN SHOW
GMC TSAR
HOUSEHOLD PET NON PEDIGREE. BEST IN SHOW
no entries
ORIENTAL SECTION – ADULTS
Olympian Class Adult Female – Judge: Mrs D Brown
Olympian – Imp Gr Ch Barbecco Miranda (OSH o)
2nd – Res w/h – Imp Gr Ch Astralblaese Andromeda (24n)
Imperial Class Adult Female – Judge: Dr B Bennett
Imp – Gr Ch Michant Furrever-Love (37j)
Grand Class Adult Female – Judge: Mrs G Denny
Grand – Ch Denson Mayiam (29)
Open Classes Oriental Havana Adult Female – Judge: Mrs G Denny
BOB – Ch Denson Mayiam
Oriental Tortoisehell Adult Female – Judge: Mrs G Denny
1CC – Rantipole Lavendar (OLH k v)
BOB – Gr Ch Michant Furrever-Love (37j)
Oriental Cinnamon Adult Female – Judge: Dr B Bennett
BOB – Imp Gr Ch Barbecco Miranda
ORIENTAL SECTION – KITTENS
Breed Classes
Oriental Spotted Tabby Kitten – Judge: Mrs D Brown
1st BOB – Serapis Allthatiam (OSH a 24)
Imperial Grand Class Neuter Male – Judge: Dr B Bennett
Imperial – Gr Pr Rantipole Remembrance (OSH b 03 33)
2nd – Res w/h – Gr Pr Pashtan Rio Grande (OSH em)
ORIENTAL SECTION – ADULTS
Breed Classes
Oriental Apricot Neuter Male – Judge: Dr B Bennett
BOB – Gr Pr Pashtan Rio Grande
Oriental Cinnamon Neuter Male – Judge: Mrs D Brown
BOB – Gr Pr Velvetena Itsinhiskiss
Oriental Bicolour Neuter Male – Judge: Mrs D Brown
BOB – Gr Pr Rantipole Remembrance (OSH b 03 33)
SIAMESE & BALINESE SECTION – ADULTS
Breed Classes
Olympian Class Adult Female – Judge: Mrs D Brown
Olympian – Imp Gr Ch Barbecco Miranda (OSH o)
2nd – Res w/h – Imp Gr Ch Astralblaese Andromeda (24n)
Grand Class Adult Female – Judge: Mr R Davies
Grand – Ch Rantipole Enigma (SIA j21)
Breed Classes
Caramel Point Adult Female – Judge: Mr R Davies
1CC BOB – Mafdet Malala (SIA m)
Tabby Point Adult Male – Judge: Dr B Bennett
1CC BOB – Mafdet Quicksilver (SIA n 21)
2nd Rocheros Aramis of Snowseal (32 2)
Red Point Adult Male – Judge: Mr R Davies
1CC BOB – Sarnau Mozart (SIA d)
Tortie Point Adult Female – Judge: Mrs D Brown
1CC BOB – Laziza Evita (SIA f)
Balinese Adult Female – Judge: Dr B Bennett
1st – CC BOB w/h – Ridestar Rapunzel (61p)
SIAMESE & BALINESE SECTION – KITTENS
Breed Classes
Tabby Point Kitten Male – Judge: Mr R Davies
1st – BOB w/h – Pashtan Snagglepuss (SIA b 21)
Red Point Kitten Male – Judge: Mr R Davies
1st & BOB – Johpas Petits Bisous
Tortie Point Kitten Female – Judge: Dr B Bennett
1st & BOB – Tianlex Izzitme (SIA f)
2nd – Michant Lulu (SIA j)
Balinese Kitten Female – Judge: Dr B Bennett
1st & BOB – Dibberpuss Smartie (61e)
SIAMESE & BALINESE SECTION – NEUTERS
Imperial Class Premier Male – Judge: Mrs G Denny
Imp – Gr Pr Beckstar Sacramento (SIA p)
Res – Gr Pr Sumadore Reddy Teddy Go (SIA d)
Grand Class Premier Female – Judge: Mrs D Brown
Grand – Ch & Pr Adzwoam Kinky Boots (SIA m)
Breed Classes
Caramel Point Neuter Male – Judge: Mr R Davies
BOB – Ch & Pr Adzwoam Kinky Boots (SIA m)
Point Neuter Male – Judge: Dr B Bennett
BOB – Gr Pr Beckstar Sacramento (SIA p)
Red Point Neuter Male – Judge: Mrs G Denny
1PC – Imp Gr Ch Beckstar Callin Batonrouge (SIA d)
Red Point Neuter Female – Judge: Mrs G Denny
BOB – Imp Gr Ch Johpas Summalovin (32a)
PEDIGREE PET
Open class
BOC- GMC TSAR
HOUSEHOLD PET NON PEDIGREE. BEST IN SHOW
no entries